Holy Dinger Uber Deep Zennifying Meditation
Please note this meditation is different from the usual Leonie Dawson meditation kits – it is the ancient So Hum technique as taught by many teachers. Usually my meditations are original visualisations – just the way I like it. But I found this technique so incredibly helpful in going deep into stillness that I felt really called to share it with you. And make it into a kit that would make it most helpful to you.
Hola my darlingheart,
I want to tell you a story.
Once upon a time, I went to a management course thingy for my cubicle job.
Sounds enlightening, no?
Sometimes the Miracles that change us the most come wrapped in the disguise of Normal.
That was the case with this.
One Monday morning, I got onto a little white bus with dozens of other cubiclers – all strangers.
The two hour drive into the green, rolling mountains was quiet. No one spoke. They nodded off into early morning naps, fastened headphones into their ears, pretended to be absorbed in the morning paper. All the while, we snuck glances at each other. Who were these people we were to spend the next two days with?
On Tuesday night, as we drove back into the city, our little bus was vastly different.
Where before there was silence and strangers…
A miracle had occurred.
There, in the white bus, hurtling through the evening dark, we shone like a thousand stars in love with each other and themselves.
We were a comet. A comet of laughter and tears.
Behind me, an older man spoke, perhaps for the first time, about going to war. About cancer. About being a single father. About having to leave countries. About how hard it had all been, how much he loved his children and how deeply grateful he was.
Women shared their stories together. They held hands, and laughed through tears, saying:
Me too.
A soft kind man sat beside me, and told me his childhood secrets.
I pulled a Native American flute from my bag, and stumbling breathlessly, played a song to the bus, to the woman with angel eyes sitting at the front who so longed to remember her joy again.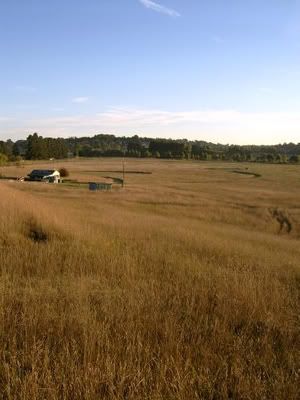 We were the sound of hearts broken open so thoroughly that our only thing left was to be vulnerable.
To allow the vulnerability in like we had been gasping for it, as needed as air.
We came together as strangers. Less than 48 hours later, we left each other, embracing each other, with shining tears in our eyes. Witnesses to each other's hearts.
The next morning, I made this video – the first time I had cried on video. It was definitely not my last.
I wonder what it would have been like to be that bus driver. The one who had dropped us off quiet & unspeaking only to pick us up as the very best of friends.
He must have wondered what had happened in those hours between.
What must have happened to make us all open and shine so much?
I can only tell you in words and photos, and even they are not enough.
There was many things that happened while we were there.
There, we were surrounded by golden fields that glowed in the sunlight. A lake surrounded by weeping willows, dragging their leafy fingertips across its surface.
There was a 70 year old man with white shining hair, brilliant blue eyes and a smile that came easily, filling a room with his happiness. His brown-eyed love, who sat in the room watching everyone. My brother tells me I have X-ray eyes, she tells me with a mischevious smile.
And as each hour unfurls, so too do we. Slowly, our hard little clay exteriors begin to crack, and wash away in the rains.
We talk. We learn a new meditation – one that surprises me with its power. We breathe deeply into it. We fall asleep on the floor. We write. We talk more.
Over dinner, people begin to share their stories.
That night, we have to write letters to people we haven't forgiven. In my soft cream room by the lake, I cry in the night. I can hear the sounds of all my other heart's comrades writing their own letters in the velveteen evening.
It feels like skin on canvas, like tattoing our shame for the world to see. Our pens are feverish and damp. We fret that we couldn't possibly say what we need to. And yet, we must. It is at once awful and utterly liberating.
Our pains are privately written in the night.
At the first light of dawn, I awake and walk through the mist to the lake. My heart is open and branded with light. I am vulnerable, and each cell inside me tingles. I am struck by the bravery of every soul here.
I pull my flute from my bag, and play long, fluid songs over the water. Prayers that we all might be healed.
In the morning light, we all look a little puffy. We eat breakfast.
We march back into that meeting room, and we do what must be done.
We open those wretched, tear-stained pieces of paper, and we read them aloud.
We sob. We pass boxes of tissues to each other. We say:
I know.
And our stories rise and fall. We are crescendos of birds, sharing with the world for the first time, all those things that lay heavy upon our hearts. We fling clutches of crows into the air.
And then, just like that, the sobs ease, and the birds arc off into the sky. We are free of them.
And we lay back down on the floor, and breathe again.
Falling heavier and heavier into the softest, kindest, deepest meditation I have ever known.
Those two days were one of the greatest healing experiences of my life.
I wish I could give you the whole healing experience, but how on earth could I package a lake and a bus?
I want to give you the essence of this healing though. This meditation technique is such a profound, powerful gift. For me, I go deeper into zennified space than I ever have before. My muscles soften, my breath deepens. I go much quicker into an amazing space of peace. And when I awake from it, I usually have some bright insights about things I need to do.
I've tried a bazillion meditation techniques. I've stared into candles. I've chanted. I've gazed upon the images of gurus. I've done funny things with my nose and fingers to breathe in and out through alternating nostrils. I've read meditation books by the dozen. I've got a box dedicated to meditation CDs I've bought. I've gone to weekly meditation classes in winter with a group of my lovely friends – my favourite part was buying roasted chestnuts afterwards and eating them until it was hard to breathe. I've invented the Meditationap.
And this one was the one that really worked for me.
It really is my own Holy Dinger Uber Deep Zennifying experience.
As soon as I learned this meditation, I wanted to share it with you.
And I wanted to make a package so you could really use this technique in your life.
So I made you the Holy Dinger Uber Deep Zennifying Meditation Kit…
You'll get four MP3s in this kit:
An introduction MP3 explaining the technique
Three meditations of different lengths – 5, 10 and 20 minutes. That way, each day you'll be able to choose how long you want to meditate for, and have a meditation to know when ze time is up. I dunno about you – but sometimes it's hard just getting started in meditation. So the beauty of having a 5 minute meditation is you can commit to something small and easy. Just a moment of meditation is worth a hundred moments without. So yus. Choices all around, dearest heart.
About your meditation guide…
Leonie Dawson is a mentor to women wanting to create + grow massively successful and heart-centered creative + soulful businesses. She is also an author, retreat leader, visual artist, mama and guide for the 33 000+ women who receive her free "AMAZING BIZ + AMAZING LIFE" eZine each week.
Purposeful, passionate & unendingly prolific, Leonie has written two books, released dozens of online programs, run retreats and sacred women's circles, held a solo art exhibition, and created the Amazing Biz and Life Academy. She has guided thousands of women to transform their businesses and lives. In the process, she has half million dollar a year company that doubles in size each year and helps thousands of women every single year. Her mission is to help as many earth angels – women with creative or spiritual gifts – to have profoundly profitable businesses so they may nourish themselves and heal the world.
Leonie has taught alongside such luminaries as Arielle Ford, Julia Cameron, Gay Hendricks and SARK. Her client list includes successful shining women such as Rolling Stone Woman of the Year, singer-songwriter & "Offspring" actress Clare Bowditch to Australia's Fat Loss Queen Kat Loterzo, master manifesting coach Denise Duffield-Thomas and best-selling author & crystal healing mega star Stephanie Hibiscus Moon.
Her strategic musings and practical wisdom have been featured on Problogger, Tiny Buddha, magazines like Spellcraft, Life Images, Goddess and Spheres, and in three of SARK's best-selling books on creative fulfillment & freedom.
Leonie has walked labyrinths in the moonlight, wept atop mountains in the middle of a storm, danced with a baby in an old cow shed as a Filipino tribal chief sang, and once married herself in a public commitment ceremony — witnessed by goddess maidens of honor that she'd met on the Internet.
Leonie is the former editor of United Nations-award winning business website business.gov.au, and has previously worked in Minister's Offices at Australian Parliament House. Leonie was formerly a top-achieving economics + art history student at Australian National University before dropping out to become a successful artist.
In short: I'm a former cubicle-bunny-and-frustrated-artist turned successful-and-ridunkulously-happy-soul-centered-entrepreneur!
So what can you expect from me as your meditation guide?
I've been creating meditations for healing and transformation during my retreats and e-courses, and know just how much other women have been touched, affected and healed by them. I'm so excited to now be sharing them as e-kits that can be accessed whenever you need them!
What other women say about Leonie's meditations…
"Leonie's Holy Dinger Uber Deep Zennifying Meditation Kit is wonderful! You can feel her spirit and essence in all she does. She has a way about her that puts you totally at ease and feeling safe and secure.I highly recommend this meditation kit to all who would like to discover a little more peace and calm in their lives!"
– Gina Rafkind
"Leonie Dawson is a gifted goddess and illuminated creator.
I happily recommend her and her lilting work."
– SARK
Best-selling author of "Succulent Wild Woman", "Eat Mangoes Naked", "Make Your Creative Dreams Real", "Prosperity Pie" and 11 other books!
www.planetsark.com
"Your meditation was the best I have ever experienced. I wish I could wake up to your meditations every morning."– Melanie
"I did the meditation yesterday and WOW! It helped me heal old pain and issues, and it reminded me that I can ask for guidance and trust myself, my intuition. I do not need someone else to tell me what my heart and my spirit require. Thank you for these gifts & these lessons."– L.D.
"Oh my goodness, but this is a
GORGEOUS, gorgeous mediation journey
. Leonie's voice is just so deeply soulful and peacefully calming. Listening to this you feel such an amazing quality of love come pouring out of her like
sweet golden honey on your tired and aching soul
. I swear that I could listen to her read the phone book and my heart would just fly open.The feeling of
tender holding
that she invokes with her sacred and holy imagery and the amazing background music of chimes and bells and singing bowls was
so stunningly beautiful and heart-felt it made me cry
. It gets inside of you. And I
just felt safe. And soothed
. And cradled in a silky soft blanket of angel feather down, like I was in the arms of a big, sweet mama goddess who loved me unconditionally.
You owe it to yourself to have this in your collection
of highly effective and healing self care tools and techniques."
– Chris Zydel, Expressive Arts Teacher & Retreat Creator
CreativeJuicesArts.com
"The thing that stood out for me while listening to this meditation was 
feeling complete safety
. I felt like I was 
wrapped in a womb of comfort
. This meditation is very professional, very kind and very soothing."
– Brandi Reynolds, Artist, Photographer & Joy Rebel
www.joyrebel.com
"Leonie Dawson is an amazing artist, spiritual teacher and goddess woman.
She's inspiring, wise, kind and oh-so-talented!"
– Lucy Cavendish
Hay House author + oracle card creator
Author of "Oracle Tarot", "Oracle of the DragonFae", "Lost Lands", "Faery Magic", "Mermaid Magic", "White Magic" and more!
www.lucycavendish.com
THE UBER DEEP ZENNIFYING MEDITATION KIT IS AVAILABLE EXCLUSIVELY WITH YOUR MEMBERSHIP TO THE AMAZING BIZ & LIFE ACADEMY!
Okay my darlingheart. Thank you for joining me in this story. Whether this is right for you right now or not is utterly perfect. May your day be utterly profound.
Big love and gentle blessings,